Bringing Life to Lifers: How One CSUEB Instructor Paves A Future for Long-Term Inmates Struggling with Addiction
---
BY ELIAS BARBOZA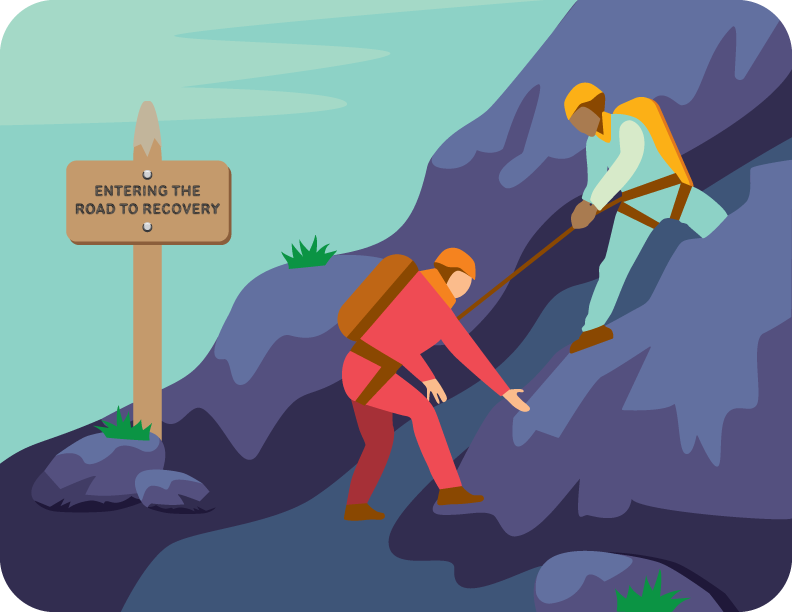 Standing in front of a thick, solid door, wearing a button-up shirt and holding a briefcase, Dr. Michael Huff patiently waits for the prison guard to buzz him in. Dr. Huff opens the door, is inspected after walking through a metal detector, and is escorted by a guard through a cold, lengthy hallway. Large, heavy gates slowly open and Dr. Huff sets foot onto San Quentin State Prison's outdoor recreation yard. As he walks across the yard on a cloudy afternoon, Dr. Huff can feel several hundred eyes scrutinizing his every move. Inmates stop what they're doing and watch him walk nervously with his guard escort from one side of the field to the other. This is the first time Dr. Huff is in this situation, and it won't be the last.
At the end of the yard, he enters a small room where 25 men wearing prison uniforms are sitting in chairs. All of these strangers are "lifers" – inmates who are serving a life sentence. But Dr. Huff is not a prison guard or correctional officer. He's there to educate, and give these lifers hope. He stands in front of the room, looks at every inmate in a brotherly manner and gently says, "Hi, I'm Dr. Huff, I don't have any judgments for anything you've done, and I'm here to give you three times more love than you've ever had in your life."
Since 2016, Dr. Huff has been mentoring lifers through the Offender Mentor Certification Program (OMCP), a voluntary program for long-term and life-term incarcerated individuals. The program provides inmates with the training and education needed to become alcohol and drug counselors. In the OMCP, inmates are taught motivational interviewing techniques and tools of effective therapeutic counseling. After completing the program, inmates can earn certificates that are recognized by the Department of Health Care Services. This can assist in obtaining employment as a drug counselor upon release, facilitating a successful transition into the community.
Along with volunteering in the OMCP, Dr. Huff is an instructor with Cal State East Bay's Chemical Dependency Certificate Program. The program specializes in teaching techniques and skills to successfully treat substance abuse, and help advance students into a career in addiction counseling. Dr. Huff recommends the program to people who work in law enforcement, as well as people with substance use issues and individuals who are interested in helping others through recovery.
"Being a part of the [Chemical Dependency Studies Program] has been very fulfilling for me," said Dr. Huff. "I try to do everything I can with this program so it can survive and bloom. Whenever I get called to teach it's always a big YES, just tell me when, and I have not said no."
Dr. Huff's story begins in the early 1970s, raised in Inglewood, California with two siblings by a single mother. He grew up with aunts and uncles with substance abuse problems and cousins who were in high-profile gangs. He also had several family members who were incarcerated throughout his upbringing. At family gatherings in his home, Dr. Huff remembers how common it was to reserve a designated room where adults could get high and drunk.
All of this seemed normal to him, until his elementary school teacher began teaching him about drugs and the negative consequences they can lead to, said Dr. Huff. He vividly remembers a guest speaker who convinced him to never partake in drugs and alcohol after bringing a genuine, green, sickly human liver to class to show the harmful effects alcohol can have on the body. This led a young Dr. Huff to appear on a local television show with other classmates to talk about the scourge of drugs and to "just say no". These learning experiences were the start of his life-long journey to teach others about chemical dependency. 
"I've wanted to work in prisons ever since I was a teenager," said Dr. Huff. "I had people in my life who were long-term drug users, and some were in and out of jail. I saw how tough it was. I helped a cousin with drug problems after he got out of prison and that made me want to help others."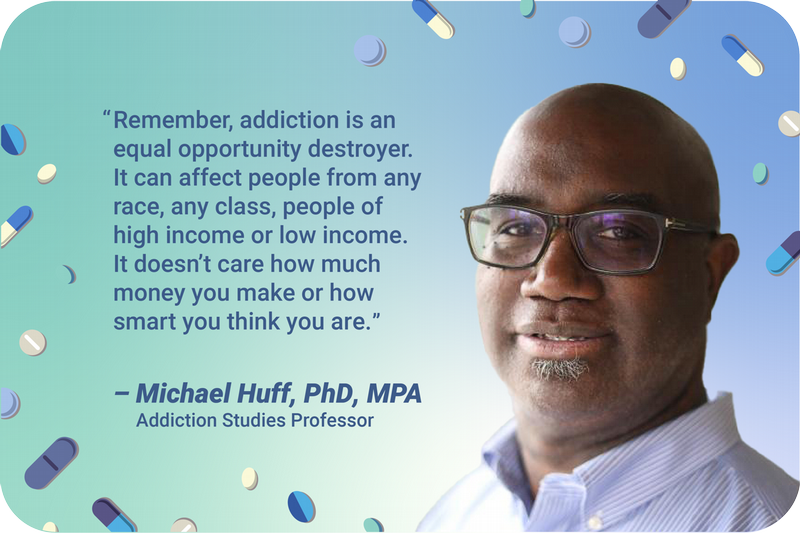 After high school, Dr. Huff graduated with a Bachelor's degree in sociology from UC Berkeley. He received a master's degree in public administration and public policy from California State University, East Bay, and a PhD in sociology from Northwestern University. As director of a men's treatment facility in Oakland, Dr. Huff discovered his colleagues were involved in the OMCP and decided to join.
On an average day volunteering for OMCP, Dr. Huff spends eight hours speaking to lifers, as a group, and one-on-one. He's volunteered in numerous California prisons, including women's correctional facilities. Spending one week in each prison, he teaches lifers about criminal thinking patterns and leads role-playing learning exercises. He also teaches them basic counseling skills and motivational interviewing, which is a counseling method used to enhance a patient's motivation to change their behavior. His main goal is to give hope and teach lifers how to be drug counselors for other inmates. 
"It's important for drug counselors to remember where they came from and who they're talking to," said Dr. Huff. "I can teach 50 people, and by doing that I'm giving back, because if each of the people I've taught reaches 50 other people then that good energy just keeps growing and continues to extend out to the universe."
During his mentoring, Dr. Huff inevitably develops a friendship with his lifers.
"After a few days of getting to know the inmates I hear them greeting me and yelling, 'Hey! Dr. Huff!', even before I walk in," said Dr. Huff about the male lifers he befriends. "These are grown men who have never had anyone tell them they love them, or felt love, or have been embraced and shown that somebody cares about them. Love is what builds self esteem and gives us hope for the future, and it gives people the capacity to change. It shows them they're worthy of love and everything that comes with it." 
According to the National Institute on Drug Abuse, an estimated 65% of the United States prison population has an active substance use disorder, and 20% were under the influence of drugs or alcohol at the time of their crime. While learning about drug related statistics is important, Dr. Huff insts educating the public about drug misunderstandings is equally significant.
"A lot of people don't realize addiction isn't something you can just stop," said Dr. Huff. "Addiction is a disease. It's your brain driving you and telling you it's okay for you to get it and need it. It's always calling. After a while, it's so strong it gets connected to your primal drives, like eating, breathing and then you need it to live. Eventually, it compels you to do things you would never otherwise do. Things that are unspeakable become normal, and that's what leads people to prison, or death. The line between what it takes to get you high and what can kill you is undefined."
Additionally, Dr. Huff emphasizes addiction has no preference or partiality.  
"Remember, addiction is an equal opportunity destroyer," said Dr. Huff. "It can affect people from any race, any class, people of high income or low income. It doesn't care how much money you make or how smart you think you are."
Before he parts ways with his lifers, Dr. Huff teaches them about the importance of sobriety and recovery. Achieving a personal goal of independence from drugs and alcohol is sobriety, and recovery is working on issues or triggers that cause usage, such as family problems or abandonment. 
"Recovery is a personal process," said Dr. Huff. "It takes a lot of will, effort and support to move a person's ideology towards a place where they can have a life without using substances."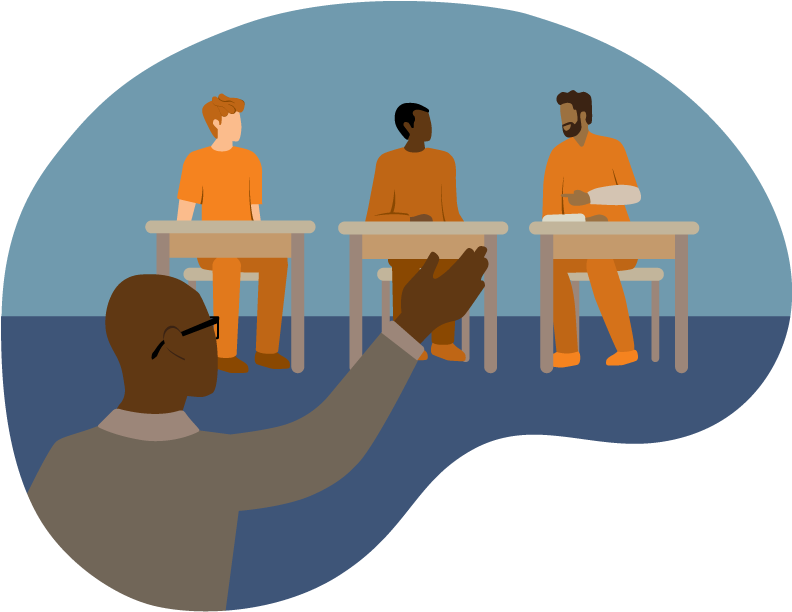 After assisting in a OMCP assignment, Dr. Huff regularly stays in contact with inmates he advised, and has hired some of them as a drug counselor. On more than one occasion, Dr. Huff has been approached at events and on the street by rehabilitated drug users who he personally mentored and uplifted. They thank Dr. Huff for showing them the love and respect they needed during a difficult time in their life.
"Seeing these [recovered users] outside and doing better is what makes me do what I do," said Dr. Huff. "Seeing someone who has potential, and me having the chance to light that fire, is a fundamental piece of my humanity that I try to share with others. It's what drives me." 
Dr. Huff is already looking towards his next project with OMCP, but when he's not teaching or mentoring substance users, the 61-year-old spends his days with his wife and three young children. He intends to continue teaching chemical dependency, wants to further his experience helping cancer patients, and plans on aiding athletes dealing with somatic pain and head trauma.
To this day, Dr. Huff has never tried drugs or alcohol.
"I try to touch lives," said Dr. Huff. "I love being able to help people, and I'm going to do it for as long as I can."
Return to Cal State East Bay Blog »
---