CSUEB's Social Media Marketing Class Guides Aspiring Artist to Strengthen Her Online Shop and Internet Presence
---
BY ELIAS BARBOZA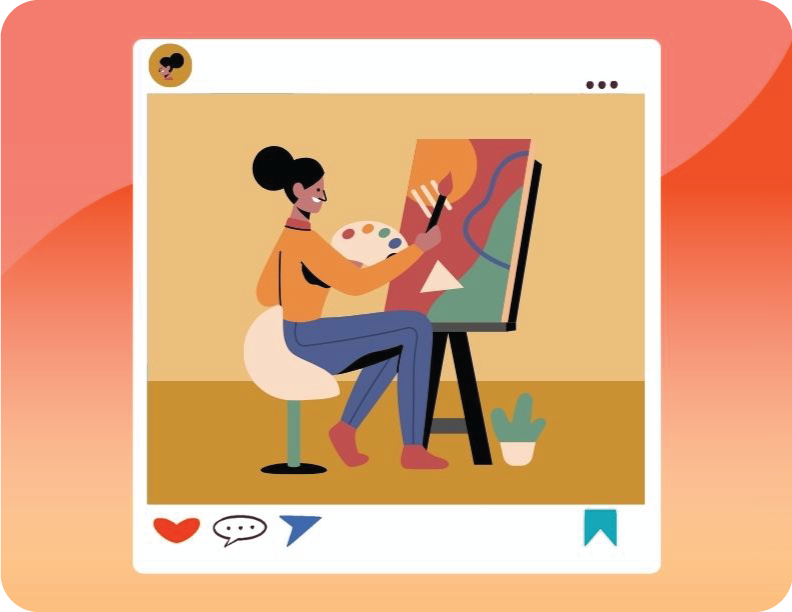 Three years ago, Anita Russell sat in front of a large, empty canvas and decided to pursue her lifelong passion: creating meaningful art. She already possessed a natural talent for drawing, even helping her children with their art homework assignments. When she was ready, she picked up a paintbrush, gently dipped it in paint, and slowly slid it across the canvas. This was the first step into what's now grown into her own successful online art shop that sells her artwork brightly printed on tote bags, phone cases, t-shirts, stickers and more.
Since opening her online art shop this year, Russell has been on a mission to promote her merchandise. She decided to reach out to a close friend in the art field, Marguerite Hinrichs, who happens to be the director of Cal State East Bay's Social Media Marketing Certificate Program. The online program runs for six courses, providing students with training in practical and strategic components of social media marketing. After a brief chat, Hinrichs recruited every student from the program to assist in promoting Rusell's online shop, making it the class' final assignment.
"I wanted to help Anita grow her social media presence and create a social media marketing strategy for her, so my students could approach her exactly as if they were an agency," said Hinrichs. "As the executive director and curator at Coleman Center for the Arts, I come into contact with artists from all walks of life, so it's exciting and important being able to help folks who are in a rural community, and who have an immense amount of talent, get noticed through social media."
For the program's final project, students worked with Russell as if she was an actual client in a potential social media marketing firm. Students pulled together everything they learned in class about social media marketing and conducted a brand audit, researched similar businesses, including risk management, and created a competitive analysis of Russell's art shop. During the practicum, students created a specific marketing strategy for Russell and ultimately presented it during a Zoom session on the program's last day.
"My students planned a strategy, wrote content and got to interact with someone who really needs help in real life," said Hinrichs. "The students got real career experience."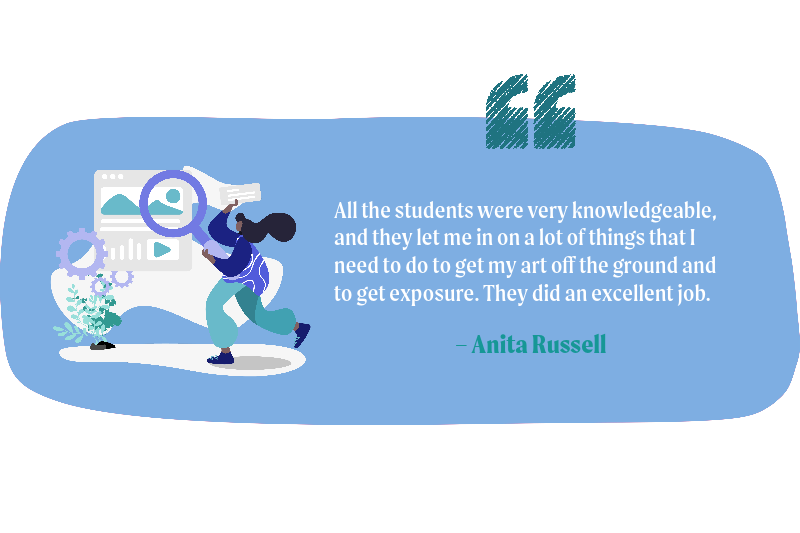 One of those students involved in the practicum was Isabel Espinosa, a busy mother from Tracy who joined the program to boost her resume and gain marketing skills. She encouraged Russell to promote her artwork by staying active, such as continuing to be involved in art shows and galleries. Espinosa also created a content calendar and several graphics for Russell to use, and advised her to be open to feedback and to interact with others on social media, especially by painting live.
"My classmates and I gave Anita lots of ideas on how to become successful through social media because we wanted to see her do well," said Espinosa. "Everybody brought their expertise. People in my class were entrepreneurs, business owners and some were public information officers from different agencies, so I really liked being able to work with them and present everything to Anita as a team."
In relation to the program, Espinosa said it taught her a variety of new things that she's brought into her own work, such as business and artificial intelligence. Also, every instructor went above and beyond, said Espinosa.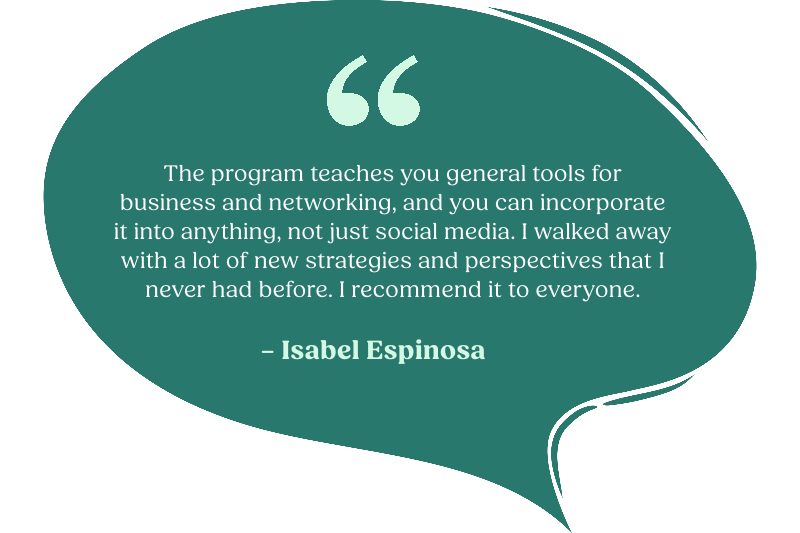 "Being in the program was manageable, and it took my content to the next level," said Espinosa. "The program teaches you general tools for business and networking, and you can incorporate it into anything, not just social media. I walked away with a lot of new strategies and perspectives that I never had before. I recommend it to everyone."
Since the practicum, Russell has taken all of the information the class gave her and will soon incorporate it into her shop and social media. She said she's fortunate and grateful for all the advice from the students. 
"I'm still learning about social media and what I can do with it, and sometimes it's challenging, so I was open to learn more about it from the class," said Russell. "All the students were very knowledgeable, and they let me in on a lot of things that I need to do to get my art off the ground and to get exposure. They did an excellent job."
Return to Cal State East Bay Blog »
---