Uplifting And Building Community: Nonprofit Management Instructor Amira Barger Shares Her Personal Insight Into The Importance of Giving Back
---
BY ELIAS BARBOZA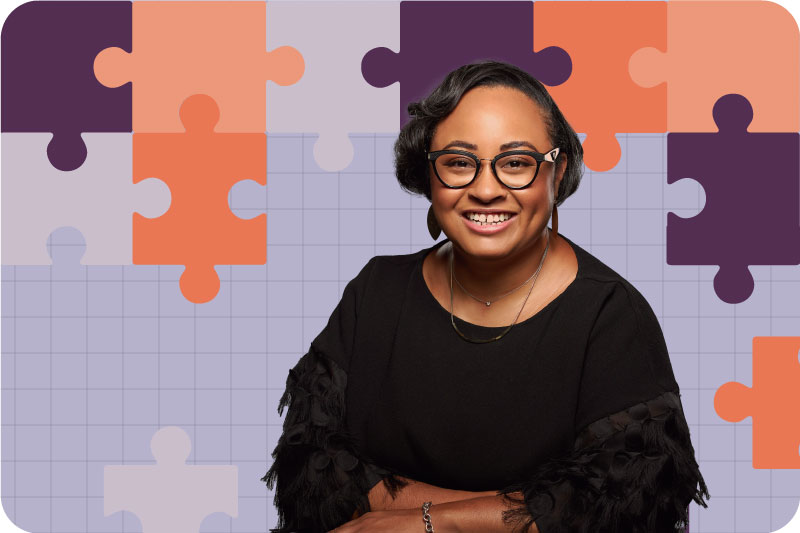 At the youthful age of five years old, Amira Barger was already volunteering in her family's church in Guam. By the time she was ten, Barger was spending her time helping less fortunate communities in food banks and shelters. Harsh weather is common in Guam, and any time the small island was struck with a typhoon, Barger was there, assisting the Red Cross in providing aid for the locals. As a kid growing up in Guam, Barger learned about the importance of giving back, and the impact of helping others.
"It all started with my upbringing," said Barger, who now lives in the Bay Area. "I learned quickly about the ideas of justice, community, dignity and shared power, and those are things I grew knowing and understanding just from my childhood."
As the second eldest of eight children, and homeschooled, Barger was often tasked with helping teach her younger siblings at home. She developed a passion for teaching at an early age, and in college, Barger developed a friendship with a business professor who taught her about nonprofit career paths. For Barger, that translated into a career as a professional fundraiser and communicator in the nonprofit sector for 14 years.
"The impact that professor had on my life was a huge motivator in becoming an instructor," said Barger. "Her guidance and input into my life changed my trajectory. She is the reason I wanted to become an instructor. I wanted to have an impact on helping students choose their path and know they have a trusted partner in doing so, because I had that."
Being involved in the nonprofit sector for more than a decade, and recognizing its value, is what led Barger to a life dedicated to becoming an instructor and being outspoken about social causes she believes in.
Barger is an adjunct professor in Cal State East Bay's Nonprofit Management Certificate Program. The online program uses a social justice lens to provide insight into board development, financial management, fundraising, marketing, program evaluation and nonprofit law, and it can be completed in six to nine months.
"Students joining the program will have an in-depth view on what it really means to work in an organization," said Barger. "It's a holistic program that really gets to the heart of how nonprofit organizations are shaped, and the challenges they're faced with today, and using real-life tips and tools to overcome those problems. This is how we continue building community and reaching goals."
Barger teaches two of the program's courses, and said her top priority is making sure her students always feel welcome.
"It's important for every student in any of my courses to have access and feel a sense of inclusion and belonging," said Barger. "My classes were previously in-person, but after the pandemic, the program went fully virtual. During the transition I began thinking, 'How do I create a class experience so that students of all different kinds, students who are dialing in from their phone instead of their laptop, students who are neurodivergent, students who learn in different ways, visual or audible, etc., how can I shape a course to help meet those needs?"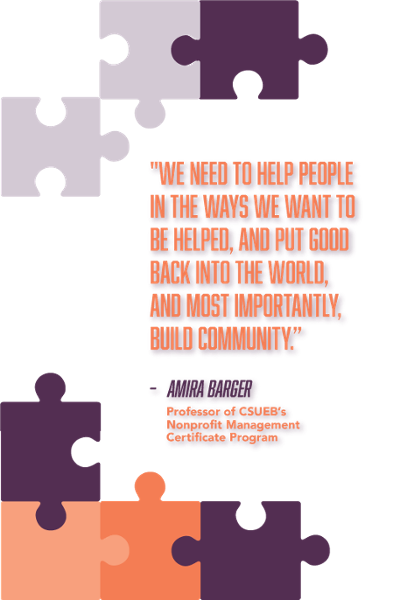 In each of her classes, Barger encourages students to reflect on the importance diversity and equity play within the nonprofit sector. She provides students with the latest data and information about nonprofit marketing and government, videos, contemporary reading material, as well as assigning students with group work to build a sense of community in her class. She also invites guest speakers to share their knowledge.
All courses in the program are taught by professors and instructors with significant experience in every aspect of the nonprofit field.
"The faculty aren't just writing about it or talking about it, because they've actually been in the trenches, sleeves rolled up, getting their hands dirty, doing the very things they're teaching you to do in their course," said Barger about the program's instructors. "All of them bring that real-world life experience into the classroom, which is important, because students need to know it can be done. Students are learning from the people who have done it."
During her free time from teaching, Barger stays updated on social causes. She's a founding member and serves on the leadership team of Benicia Black Lives Matter. Also, the mayor and city council of Benicia appointed Barger to Benicia's Commission United for Racial Equity (CURE) to help local voices reach decision makers. In addition to several other causes, Barger is part of a global public relations firm and is regularly invited to share her knowledge at public speaking engagements centered around women's leadership and the nonprofit sector.
From her experiences growing up in Guam, to her involvement in social causes today, Barger said she will always continue to encourage future nonprofit leaders to keep pushing forward.
"Trying to move people's hearts and minds for causes in the social sector, and in business and government areas, is what motivates me," said Barger. "We need to help people in the ways we want to be helped and put good back into the world, and most importantly, build community."
Return to Cal State East Bay Blog »
---